Risk Management and Corrective Actions



Corrective actions for every hazard, on each machine
Risk management of a complex piece of equipment can be a time-consuming hassle. And that's just one machine in your fleet.
Choose Plant Assessor to help identify hazards and mitigate risk.
After completing a Plant Assessor risk assessment, our sophisticated Machinery Compliance Engine (MCE) instantly identifies the hazards, applies a risk rating that is based on the likelihood that the event will occur, and the potential impact it could have. It then provides recommended corrective actions to help mitigate risk and meet compliance.
Each risk management report generated considers all legislative requirements, Australian Standards, Codes of Practice and industry best practices, ensuring confidence in compliance across your entire fleet.
Spend less time on admin and more time on the job
The MCE has done the legislative hard yards for you. With hazards identified, risk ratings applied and recommended controls listed in an automated report, you can focus on putting the corrective actions plan into play, meeting compliance easier, and faster.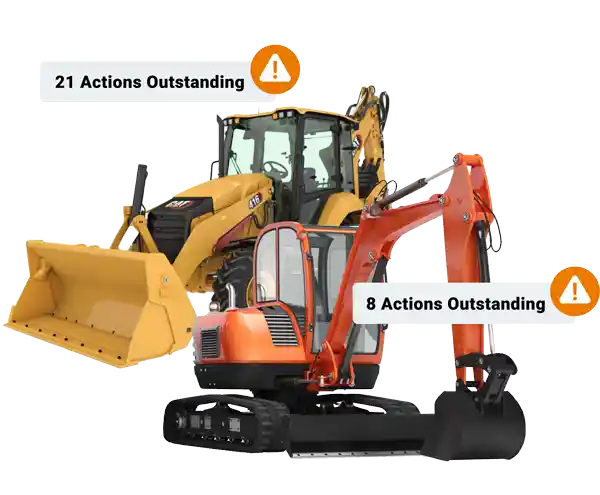 Keep track of what's required and what's been done
Use the actions dashboard to more efficiently and effectively manage outstanding corrective actions. Assign responsibilities, track completion and keep detailed records of when the action was completed, and by who.
Efficiently and effectively meet compliance
Assessing your entire fleet can result in multiple corrective actions to address in order to be compliant. With our Bulk Action management tools, assign multiple actions to specific users, bulk order safety labels with a click, and update the status of completed actions with ease.
WHY PLANT ASSESSOR?
Keep your machines and business running at their full potential
Compliance made simple


Real-time machine status

Machinery risk management

Legislation and laws covered

Customer support
Request a Demo specific to your Industry or Role today.