Managing compliance paperwork can be a tedious process.

With multiple machines, each with their own set of compliance documents, registration, manuals, operator information and more - an old-fashioned filing cabinet won't cut it.
Compliance savvy businesses use Plant Assessor to leave their paper-based systems in the past. Get organised and digitised, making sure all of your people have access to the right information related to the machine they are using, at their fingertips 24/7.
End-to-end document management and audit trail
Never lose a document again, with all files and interactions logged and auditable. With multiple document libraries, you can store all of your machinery, compliance, employee and safety documents digitally, giving you access anytime, anywhere, and creating an audit trail that's available at any time. Information sharing is also simplified with the ability to ensure site personnel have 24/7 access to all required safety documentation, before, during and after they've been on site.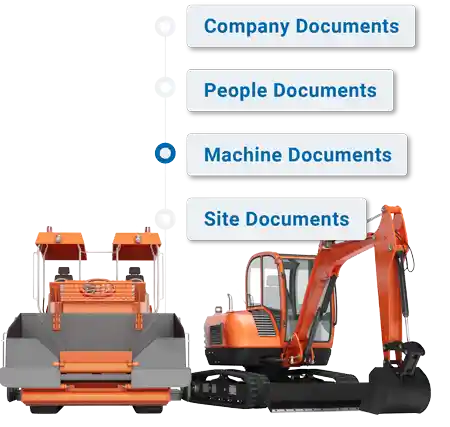 Document review and approval workflows
Accelerate the pre-qualification and onboarding process for supplied machines with Plant Assessor's MySite tools, and have required compliance and safety documents supplied, reviewed and approved before machines arrive on site.
Streamline your document processes
Set expiry dates on your safety documents to ensure you never lose or miss a renewal date ever again and ensure everyone on site is fully compliant with up-to-date licences and accreditations.
A virtual profile for every machine
Each action taken against a machine is automatically logged against a shareable digital profile, complete with all documentation and a daily report of any actions or issues that need attention.