Supercharge your machinery safety system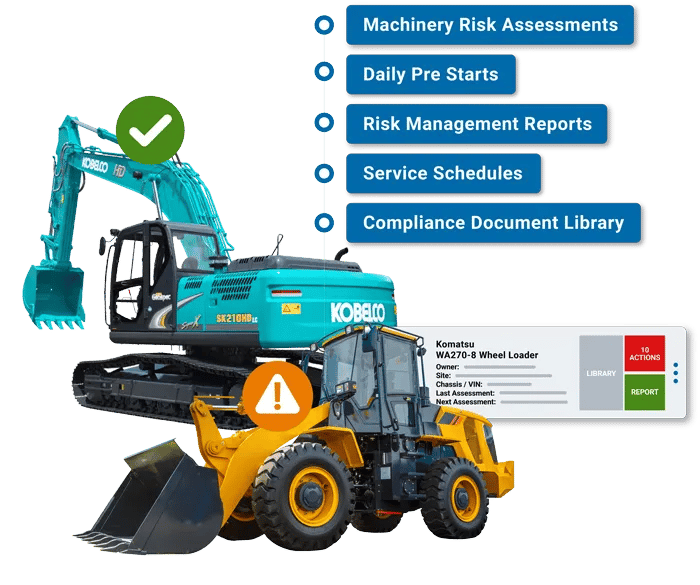 Enhance your pre-start experience. Have more visibility and control over your pre-starts with Premium Pre Starts.
• Detailed reporting and dashboards
• Notifications and alerts
• Bespoke service intervals
• Work orders



MySite Suite
Accelerate the onboarding process for subcontracted machines with Pre-qualification, and have required compliance documentation supplied, reviewed and approved before machines arrive on site.





MySite Suite
Are you a Principal Contractor managing subcontracted machines? Use our site management tools to better manage your on-site subcontractor compliance, ensuring all machines are up to spec, and the project stays on track.



MySite Suite
Keep your finger on the pulse with real-time key metrics and performance indicators to help guide decisions and better navigate your machines across multiple projects.
Let us take care of things for you. Our highly trained and expert Professional Service Team is here to assist you with a range of field services and implementation support. We can take care of the lot, or work alongside you.
• Risk/hire/sale assessments
• Site and fleet setup
• Training


Get the most out of Plant Assessor. Our team can provide your business with training services to ensure you are getting maximum value for money from Plant Assessor.
• Staff training for
assessments and software
• Demonstrations can be
remote or on site


Make sure your machines are compliant. We can supply you with all the machinery safety and hazard labels you need to make sure your fleet is up to date and legally compliant.
By affixing our QR codes to your machines, you can provide ease-of-access to critical machinery safety information, ensuring operators stay informed and protected at all times.