Sorry! This competition ended on October 31, 2023.
WIN a machinery safety prize pack worth $4,999

Enter your details for a chance to win a prize pack that includes a comprehensive fleet risk assessment of up to 10 machines, a Yeti esky worth $399, and an $800 RSEA Safety voucher.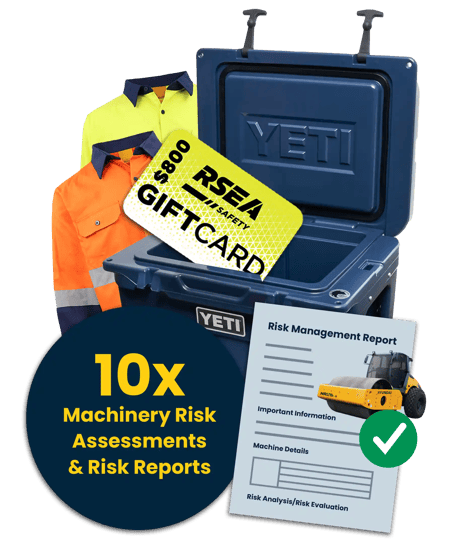 This competition starts 8:00am 20th of September 2023, and ends 11:59pm 31st of October 2023, and is open only to Australian residents over 18 years old only.
Entries to this competition must be submitted on the Plant Assessor website at the following address; www.assessor.com.au/whs-sydney23-promotion
The prize value totals $4,999.95. It is inclusive of a Yeti esky valued at $399.95, a voucher for RSEA Safety valued at $800.00, and 10 Plant Assessor machinery risk assessments completed by a machinery expert valued at $3,800.00.
The winner will be randomly drawn at 9am 1st of November 2023 at 1/45 Bonville Avenue, Thornton, NSW, 2322. The winner will be notified by email shortly after and will be given 20 business days to respond to the email notification and accept the prize. A redraw will take place at 9am 29th of November, 2023 at the same address, should the winner not accept the prize or fail to respond to notification.
By entering this competition, you agree to receive marketing communication from Plant Assessor. You can unsubscribe at any time.
The prize is non-transferable, non-refundable and cannot be exchanged for alternative activities or cash.
The voucher and esky will be delivered to the winner via mail once the winner accepts the prize.
Risk assessments must be completed within one visit, on the same day. Professional Services booking is subject to availability; the winner must cover travel costs.
Excludes Plant Assessor software subscription, and access to the software. Winner will receive PDF copies of up to 10 risk assessments.
The offer is available to both new and existing customers. The offer does not void any existing agreements that the customer may have with Plant Assessor. Existing customers can opt for an additional day of professional services if they are on a hybrid membership.
The visit must be redeemed and completed by 30th June 2024. Blackout dates apply.
By entering you agree to these terms and conditions.
The promoter is Online Safety Systems Pty Ltd. ABN: 96109565273.

Permit number: ACT TP 23/01741